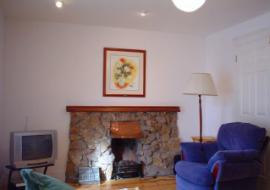 The Lounge
House to rent in Ireland: Limerick. Sleeps up to 12.
On location with
Angela's Ashes!
Not just Limerick City itself but right by the street where the author of this famous work spent the childhood he so vividly describes.
This substantial
O'Curry St
property, completely renovated and refurbished to a very high standard, is all of 2 minutes from the glorious
Shannon river
with its waterfront of pubs, bistros, restaurants and vibrant night life.
With accommodation for up to 12 people the property offers exceptional flexibility of use.
The ground floor can be used, if required, as a
separate 1 bedroom, ensuite apartment
with sleeping accommodation for up to 4, its own lounge, fully equipped kitchen and large enclosed garden.
The upper floors of this 3 storey property provide 4 double bedrooms, a lounge and fully equipped kitchen. There are 2 washing machines and a dryer.
Finally, you won't have far to go for food shopping or to check your emails. The supermarket at the corner of the street will provide everything you are likely to need and the internet cafe across the road is open till 11pm.